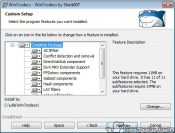 Advanced Codecs for Windows is a neat tool that contains all codecs optimized for Windows, including Windows 10 and 11, which will help you enjoy your library of music and movies.
Having support for different codecs on your computer is important as it enables you to enjoy different types of multimedia.
And since Windows do not fully support some formats and codecs, you might struggle to find the right ones that will work for you.
If you want more support for different codecs, then you might try Advanced Codecs.
This application will provide you with all the necessary support for various codecs, allowing you to enjoy your library of content without downloading additional apps on your computer or using other services.
Install Only the Elements You Need
While installing Advanced Codecs on your computer, you can pick exactly which parts of the app you want to be installed.
You can choose the Custom installation mode for that. But if you're a beginner, you will do better by using Complete mode, which will assist you with the installation.
Get Over Compatibility Problems
The main purpose of this application is to help you get over some compatibility problems that some files might have on your computer. It will enable you to play different formats, including MKV, MKA, RMVB, Xvid, AMR, MPC, OFR, DivX, APE, FLAC, OGG, OGM, OGV, EVO, FLV, and others.
This particular codec pack doesn't come with a video player. On the other hand, it will enable full-color thumbnails, preview panes for MKV and FLV files, description tabs, decoders for 32-bit LiveTV, and support for DLNA, MOD, and M4A files.
You can see that it's an extensive list of file extensions that this tool supports. These are some of the most widely used formats, enabling users to enjoy their content without downloading or installing additional apps.
You can also create playlists for Media Center and use the Xbox 360 to play MKV files. Further other features recommend this codec package as a unique alternative to mainstream solutions.
Conclusion
Advanced Codecs is an application for Windows that enables you to enjoy some commonly used formats on your computer, giving you access to popular files of content that you might have.
Advanced Codecs features and benefits:
Enjoy thumbnails in full color
Frequent updates
Use PowerDVD decoders in Media Center

Play MKV files on media players

Manage the installed codecs: easy disable/enable