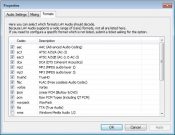 Combined Community Codec Pack or CCCP was developed over time by a group of online anime enthusiasts and has become a complete collection of codecs that play virtually all videos you may encounter on the internet.
As the idea was to cover the most uncommon formats, this should be the best choice when movies don't open with your ordinary codec pack or player.
This collection of codecs has to be installed in conjunction with CCCP Insurgent, an additional free tool that disables conflicting codecs that have been already installed on the computer.
The hard thing is that you need to check the instructions on their site to proceed with these modifications. To sum it up, one should know that this codec pack only decodes video files. No encoding feature is included.