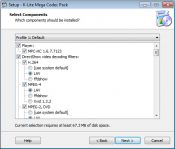 K-Lite Mega Codec Pack contains the basic functionality of any other related codec package and some advanced features that enable users to view even the rarest video formats.
This package was created especially for power users who need to use rare video formats. A recognized stable and easy-to-use solution, this pack keeps its database constantly updated and has a straightforward installation process. You get to choose from an extensive list of codecs and tools. In addition to this, no conflicting codecs have been reported until now.
It integrates Media Player Classic, all DirectShow filters available, including the subtitle one, VFW video filters, and basic ACM audio codecs. Additional tools complete the list with Haali Muxer, FourCC Changer, GraphStudioNext, VobSubStrip, and tweak features.