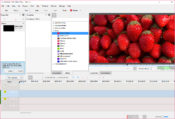 Kdenlive is a robust video editor built with KDE frameworks. The MLT framework handles a lot of the video processing itself.
Remember that you might need to download FFmpeg or other open-source codecs to make it work with your computer.
Core features include a timeline with multiple tracks, a clip list, transitions, and other effects.
Features
Multi-track editing is sometimes necessary if you need different audio or video tracks. You can choose the format you want and will typically convert it to another format, so you are working with the same ones throughout the project.
We liked the ability to arrange our interface in a custom way and create shortcuts. It certainly sped up the workflow needed to get the projects done.
Effects and transitions are a big part of video editing. Sometimes you want to change colors, make audio changes, or replace another video part.
Everything is possible in the program. It is very convenient, especially when trying to balance it.
Editing Workflow
Sometimes, you want to edit the result on a computer or take your work home. You can make lower-resolution versions for editing, rendering it back to the high-quality video for the final product.
Moreover, the application can automatically save backups of your work every few minutes. It means you don't need to worry about losing all those hours of effort if a mistake happens.
You can't always see real-time feedback when video editing.
However, this app will let you know the feedback or render different parts in advance. That way, everything syncs up on the timeline exactly as you wanted.
Conclusion
Kdenlive can be a valuable addition to your video editing software selection, allowing you to access various powerful features in an open-source environment.