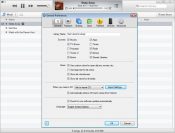 iTunes seems to be the easiest way to organize your favorite music, videos, TV shows, and everything media-related. Additional benefits come from listening to iTunes Radio, sending a gift card, or going to the App Store and enjoying cool stuff.
It allows Apple device users to tap into the pool of multimedia content that Apple offers them, such as music, movies, TV shows, and various apps you can purchase from the App Store.
iTunes is a must-have application for almost every user of Apple devices. It will help them manage their content, get new content for their phone, manage all their devices, such as iPods and iPads, and manage all the content they might have.
It's a media library, but it can be much more than just that for your Apple device.
Manage and Synchronize Your Content
The main feature is the ability to help you manage the multimedia files you have on your computer. You'll be able to sort the files you have on your device into categories, which will give you a chance to have more organization.
You'll also be able to listen to music, watch videos and movies, and more. It's a supreme video player that Apple users know all too well.
You can also play music and watch other content with iTunes. So it's fair to say it's much more than just a music player. Organizing your content is also easy, as you can store it in libraries.
You'll also be able to sync your content and contacts, which is neat if you purchase a new Apple phone – this app can also be useful in those cases.
Restore or Create Backups Easily
Another useful feature is the ability to create backups. You can store purchases you make on your device and save them for the next time. It is available through the iTunes backup feature.
But you must note that you won't be able to back them up on a CD or DVD if you wish to do that. You can store it with your storage on Apple or your computer.
Conclusion
iTunes is an application that helps you play multimedia files, such as videos and music, and manage your content easily.
iTunes features and benefits:
Keeps all your music, movies, and TV shows in one place
Browse your library into a beautiful interface
Browse by albums, artists, genre, etc and listen
Get all your music organized
Discover and buy your favorite multimedia from iTunes Store

iCloud will help you access your files from anywhere