Plex Media Server 1.16.4.1469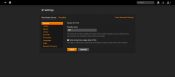 Plex Media Server meets the needs of desktop, mobile and connected devices users. Supporting almost all media formats, this media solution handles well large collections of files, by the use of unlimited categories. Favorite videos, music or photos can be accessed from anywhere, the tool allowing remote access over the internet. Files can be share with friends without the need to upload them.
A universal queue lets you save web videos and access them from a mobile device or a connected TV carrying the app. In order to make use of remote functionality, you need to create an account on the app's site. No configuration is needed afterwards.
Latest version:
1.16.4.1469
File name:
PlexMediaServer-1.16.4.1469-6d5612c2f-x86.exe
MD5 checksum:
AA59B0F68B13C1B1BCB2AB319D33A39B
Supported OS
Windows 10 / Windows 8 / Windows 7