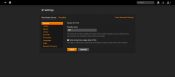 Plex Media Server is a media center for playing multimedia content, such as videos, TV shows, music, photos, and movies, and streaming them to other people easily and effectively.
When you have a large file of local multimedia files, you can share them with others. However, that can cause you a lot of trouble since you will have to send them or transfer them via a USB or a physical drive.
With the Plex Media Server, sharing and streaming content has never been easier. It's a media center hub where you can upload your content easily. You can upload movies, TV shows, videos, music, and other content types and stream them to others.
The interface is modern and easy to use, making this service accessible to many people.
Use the Tool Via the System Tray
When you first start to use this multimedia tool, you'll see that it's quite a minimalistic interface waiting for you. That's mainly thanks to the modern and sleek interface that will take some time to load. The server will load in the browser, although it can take some time to load.
Once you can see the interface, you can start organizing your media files. You can select to upload the files easily or even upload entire folders to the server. In the server, you're then able to easily organize these files and folders so that you can see what content is where.
It includes changing the library names and organizing the content into categories for more control.
Content Library Management Made Easy
Once you're inside the media library, you can arrange and organize the content so that it's easily accessible to you. You can easily change the names and sort them by category.
You can also sort them using various criteria, such as year, tagline, genre, or collection type. And previewing the media within the player is also possible thanks to the internal media player.
Conclusion
Plex Media Server is an application for streaming your content and uploading it.