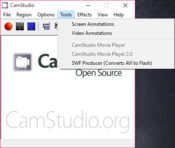 It is designed to provide the best on-screen video and audio tools. With CamStudio, you can create demonstration videos or provide tutorials regarding the application or software to other users.
It allows you to change your audio into a professional one. Moreover, you can add high-quality screen captions to your videos too.  You can even combine different effects in your video by capturing the screen.
Furthermore, the scope of CamStudio is not limited to on-screen capturing; it allows you to add yourself to the video through connectivity with the webcam.
The size of the file created through this application is not as large as you would expect to be produced by the other applications individually available for this purpose.
Moreover, you can also choose the part of the screen that you want you to capture or otherwise go for the full-screen capture, and it is all dependent on you.
Burning the created video on CD/DVD is also possible. You won't have to face a quality issue after exporting the file. Moreover, customer support can be quite helpful in case you find difficulty managing anything.
CamStudio is a tool to capture screen activity and even off-screen videos, including its audio. Similarly, adding captions and different effects to the created video is also part of the features of this tool.