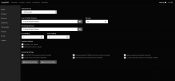 If you are looking for a personal video recorder, then using this application is going to be of great help to you. Additionally, it works as a media center application for Windows.
NextPVR ensures that you can watch live TV and pause it to be viewed later on. Similarly, you can even record your favorite show so that you can watch it at a later time. Apart from the TV recordings, you can expect to playback the content stored in your computer using this application. Whether it is your favorite music or your pictures stored on your computer, you can efficiently utilize this application for viewing them.
Additionally, this playback feature does not work from the PC rather the source of connecting NextPVR is the network. So, any device that is connected to the same network can be accessed for watching or playing back of the content.
With NextPVR, you can expect to support multiple clients and the distribution of media on different devices across your home. NextPVR has a web interface as well, which allows you to schedule your favorite program to a suitable time when you can enjoy it fully.
Furthermore, the support of this application for plugins ensures that you can add other features as well. RSS feed and weather updates are amongst them.
NextPVR is an application to provide you an efficient mechanism to manage and watch your favorite media content with great ease.