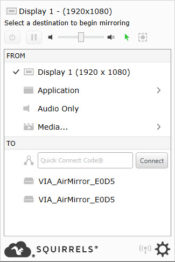 Are you an owner of an Apple TV Box? Then AirParrot is going to be highly useful for you. Using this application, you can mirror the computer screen on the television.
It is a simple application that does not allow users to change many application settings. On the one hand, you can consider this application feature important.
This application comes with a tray interface to provide easy access and proper functioning of AirParrot. You can open the application on the desktop by double-clicking the icon. By getting an expanded version, you can look at the devices connected to your application. Some of the supported devices include AirPlay and Apple TV.
AirParrot also allows you to modify the quality of the picture you can see on the screen. It can help you in saving your data. If you have an excellent data package, then you can watch 1080p quality. However, you must see if your TV can handle this quality. With this application alone, you will not be able to manage it.
This application supports the streaming of videos and channels through the mirroring function, so there is nothing that you cannot enjoy on a big-screen TV.
AirParrot is an application to mirror the screen of your computer on your TV. It provides an easy way to handle your favorite videos and lets you enjoy them on a bigger screen with limited settings.