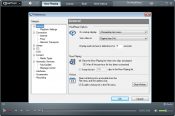 RealPlayer brings into a single package watching movies, downloading media, converting it and organizing videos. After covering the basics and something more, it adds some other unique features such as video bookmarking and private mode. The '‹€bookmark this video' option helps you organize videos from thousand of websites one browses daily.
As for private mode, it is the developers' choice to express the storing of private files in a secure location. Apart from these features, the free version also allows video conversion, CD burning, video streaming and downloading.
Most important of all, you get to share favorite content with friends.
RealPlayer features and benefits:
Online radio - Over 3200 stations worldwide and 60 ad-free stations for endless listening

Expanded controls - Optimize sound with the 10-Band Graphic Equalizer and get the sharpest picture with advanced video controls

Advanced CD burning - Rip, mix and burn CDs like a pro - fast! Encode MP3s at up to 320kbps

Play everything - Rit plays all major media formats including Quicktime MPEG-4, Windows Media, DVDs, and more

Easy, fun and intuitive - Browse the web, organize audio and video files, create playlists, and more