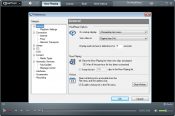 RealPlayer is a multimedia player and file organizer that helps you play videos, and music, share them with your friends and organize them in the dedicated cloud storage space with the app.
There are many multimedia players in the market today, but some are not the most user-friendly, while others will not offer you the storage-saving options you might need from such an app.
With RealPlayer, those problems are addressed nicely. You'll be able to play your multimedia files with it, such as videos, movies, and music.
It is the first and most notable thing a player like this should do. But it also allows you to configure and create a file organizer, as you can store your files in a cloud storage space that helps you save space on your PC.
Your Files are Ready Wherever You Might Be
One of the best things about this application is the cloud storage space you get. You'll be able to save them on the storage on your cloud drive, which every user gets, although you can increase the amount of space you gain by inviting friends and sending or sharing files with them.
The more activities you do, the more storage space you get.
Organize Media Files and Play Them
Another worthy thing to mention is that you can neatly organize your files into categories to find them easily when needed.
You'll have a set amount of storage on the Internet where you'll be able to save your files. The big advantage is that you can instantly share them with others.
Of course, this application acts as a media player first and foremost, but it also has some advanced features you won't find in other media players.
Conclusion
RealPlayer is an advanced media player with cloud storage and advanced sharing so that you can play your files instantly and share them with others over a set period.
RealPlayer features and benefits:
Online radio - Over 3200 stations worldwide and 60 ad-free stations for endless listening

Expanded controls - Optimize sound with the 10-Band Graphic Equalizer and get the sharpest picture with advanced video controls

Advanced CD burning - Rip, mix and burn CDs like a pro - fast! Encode MP3s at up to 320kbps

Play everything - Rit plays all major media formats including Quicktime MPEG-4, Windows Media, DVDs, and more

Easy, fun and intuitive - Browse the web, organize audio and video files, create playlists, and more