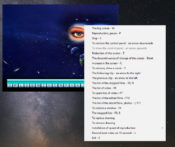 After a long day at work, you want to relax and have a good time. A lot of people like to use their PC as an entertainment station, and if you are one of these people, you have to know that you need the right tools which are going to help you.
It is the case of VPlayer, a multimedia tool which helps you in listening to your favorite music, watch movies and even images. This tool is straightforward to use, and it is an alternative if you don`t want to install specially designed programs for your videos and your music.
It offers you a simple to understand design. All of the media files are going to load fast, and you can enjoy your content in no time. When it comes to functions, VPlayer has a lot, and you should pay close attention to them so you can be sure that you did all of the things the right way.
You can play any movie you have in your pc and adjusting different parameters like the volume is simple to do with this tool. You don`t need to be a pro when using this tool because it is simple to understand the functions which it offers.
It isn`t a sophisticated tool which means that some functions which you may be looking for are going to be missing. All in all, this tool is going to do the job well, and you can use it to have a good time.