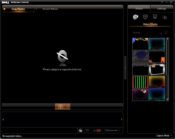 Dell Webcam Central allows you to share the files you are creating using your camera with the world, and you will see that it is straightforward to do so while taking advantage of this tool. This tool will offer you the chance to share the files on any of your desired social media, and you won`t have problems in using it out.
Dell Webcam Central will help you in doing a video chat with another person, and you will see that it will be working with any webcam you are using, and it doesn`t have to be a Dell webcam.
This tool is pretty easy to be used, and you will see that you will only have to take advantage of the two menu bars, which is simple to use and accessible to you. These bars are separated, and they can easily be used for recording videos and taking pictures.
This tool also offers you the option to significant streams into the interface that this one provides with ease, and you will see that you can do that without any problem. You will also like the fact that you can quickly add some visual effects on both of your images and video files so you can make them the way you would like.
There will also be some additional features, such as noise reduction, which can come in handy when you want to edit a video. The visual effects will help you add some glamour to your output files, and you will see that the files will look smoother, and you will like them. It is free to use tool which you will, and it is available for free.
If you are a Dell lover, this tool will be perfect for you, and it will help you a lot, so you should try it out every time.