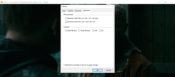 SPlayer is a media player that can serve any user's daily needs related to multimedia playing. It supports various audio and video formats to facilitate the users in viewing and listening to multiple media files. Importing files from other applications is possible. You can use the web browser or the drag-and-drop facility for this purpose.
You can add your favorite audio or video files to the playlist, make some of your favorite files, and manage the subtitles in the files efficiently. Smart Subtitle Matching is the unique feature that SPlayer provides.
Moreover, volume adjustment can be managed from 100 to 1000%, providing enough room to adjust your required volume. Loop mode, enabling the performance or quality of the application, can be managed, along with this player's ability to save thumbnails from the videos.
Configuring audio settings, action playback, and aspect ratio are some of the other features provided by the application. Additionally, there are various ways to manage the interface of the application.
SPlayer allows you to manage your audio and video files efficiently, enabling you to change the applications' specific settings.