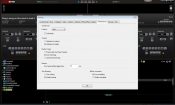 Virtual DJ is a full-on mixing tool for creating and editing audio files, which comes with a neat set of tools such as pitch control, karaoke support, and other features that both amateurs and professionals will like.
If you want to get into DJ-ing, you're looking for the best tool to get you started. There might not be a better way to get started quickly and easily than using Virtual DJ.
Firstly, it's relatively easy to use and has a neat interface. Secondly, it offers you much room to grow as it has some advanced editing tools.
A Good Array of Tools
It is designed to bring you as many tools as possible so that you can start your editing right now. First, we must note that this is not a composition application, although it can also be used to edit the music already on the market. You can alter the songs to add some of your styles.
At first, the Virtual DJ interface will seem a bit confusing and complex if you're a beginner. But don't worry. Spend some time with it, and you'll soon see that it should make sense.
You can work on multiple tunes at the same time, as well as use the variety of tools that are inside the interface, which tends to make things a bit harder at the start.
Editing Features
In addition to the basic tools, this application has powerful editing tools that will help you get the most bang for your buck. You have three-band equalizers, real scratch animation, karaoke support, a Master Tempo pitch algorithm, a BeatLock engine, an automatic seamless loop, and more.
The app is great for beginners and advanced users, as it has a nice mix of everything.
More advanced users may take advantage of master tempo, beat-match features, smart loops, and different additional plug-ins, especially useful when one needs a special sound effect. Video and karaoke are also available in the free version.
Conclusion
Virtual DJ is a mixing application that you can use to create and edit tunes and learn how to DJ.
Virtual DJ features and benefits:
DJ Players with Controls and Pitch
Maximum number of decks 99
Internal Mixer with Gain and Equalizers
Key Lock/Master Tempo
Instant BPM Detection
Automatic Beatmatch
Automatic Gain
Smart Loops
Play Music Video and Karaoke
Master + headphone output