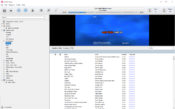 It is an application that lets you enjoy the karaoke at your home with professional expertise. KaraFun Player is quite easy to manage because of its modern and friendly interface. The tree structure also adds to the better selection of songs.
You can have access to online content while using this player. Eighteen thousand fully customized tracks are available for you on different genres of the party. So, finding the most appropriate song for karaoke won't be tough.
The ability to navigate the songs based on the genres, countries and new releases makes this player even more fun. This application also supports the display on a dual monitor to have a better presentation of the lyrics, and your guests can enjoy everything to the maximum.
Some customizable features are also part of the KaraFun Player. You can even customize the key and tempo of your songs. The lead singer or backing vocals can also be increased or decreased.
Similarly, the background's brightness can be adjusted to enhance the overall visibility of the lyrics on the monitor.
KaraFun Player is an application that can customize your karaoke experience according to your needs so that you can get the most fun out of it.