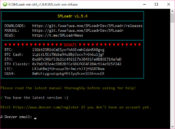 It is one of the music downloaders that can allow you to get your favorite songs in an offline environment and your desired quality. The GUI interface is available for the users. However, you'll have to start the executable file on your own to get it started.
You can have some of the options while using SMLoadr, which includes selecting the folders for saving the downloaded music files.
Additionally, you can even change the versions of the downloaded files for you. MP3 and FLAC are the two versions that this player supports. You can also have the option to filter the content based on the albums, singers, songs, etc. you can also have the list of suggested songs based on your own choice.
Deezer is the only supported streaming service for this application, so that you can download the songs through it. The progress of downloading is shown on the console of SMLoadr as well. This application allows the downloading of content for personal use only and not as the means for distribution.
SMLoadr is an application to help you download the audio content and maintain an offline database for personal use.