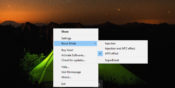 Amplify the sound of your system by amping the volume to higher levels than you can use with Sound Booster, which comes equipped with powerful tools that you can easily deploy with hotkeys.
If you like listening to music aloud but don't have the right audio setup, it might be a problem, especially if you feel like the sound you're getting is not loud enough. Luckily, there are a few solutions that you can try, including Sound Booster.
It acts like an amplifier for your computer, enabling you to amplify the sounds coming from your system. In addition, you'll be able to turn up the sound to levels higher than the maximum sound levels on your system.
It can give you a more satisfying listening experience and powerful sound.
Higher Volume
The main purpose of Sound Booster is to enhance the sounds that are coming out of your system. Your volume will no longer be limited by the volume constraints that come with Windows or your sound card.
The role of this app is to process the sounds on your computer before it reaches the sound card.
You can increase the overall sounds from your system and surpass the highest possible sound barrier you usually have on your computer.
You'll be able to do that quickly and easily, and you may reach sounds several times stronger than you recommended or the highest allowed sounds.
Set up Hotkeys
You can set up hotkeys to enable you to change the sounds quickly and increase the sounds in a few seconds.
When doing that, you'll be able to amp up the sounds by just clicking a few buttons on your keyboard and using the hotkeys of your choice.
It makes the app easy to use as it minimizes the system tray.
Conclusion
Sound Booster is a great tool to increase the PC sound volume.