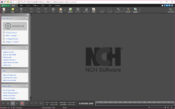 WavePad is a highly popular audio and music editor with robust tools and advanced editing features, such as adding audio effects to songs, joining multiple songs, creating your songs, and then burning them to CD.
WavePad is meant for everyday users and smaller production teams and studios. It has several nice editing features, such as adding sound effects, mixing audio and songs, and much more.
Edit Songs and Audio Files
Once you open the application for the first time, you'll be welcomed by the elegant and simple user interface. In the middle, you'll see the audio wave of the song you're editing, while you'll be able to choose from many tools at the top.
The application has all the necessary tools to edit and create your songs. First, you'll be able to edit songs by adding audio effects and mixing sounds. It will appeal mostly to individual audiophiles.
You can also merge songs and then convert and burn songs once you're done.
Add New Features with Extensions
The great thing about this app is that it will offer some nice extensions to improve your experience further. With new extensions, you'll be able to add features like a compressor, amplifier, or equalizer.
Another useful thing about this app is that it will support several types of files. These include WAV, MP3, WMA, AIFF, AU, MID, WMV, MPG, AVI, APE, and more. It will allow you to export songs easily and burn them to CDs if you wish to do that.
Conclusion
WavePad is an intuitive audio editor enabling you to edit songs and add sound effects in a simple and elegant interface. It provides editing capabilities to restore sound and offers easy-to-use cutting, copying, and pasting options.
Moreover, features like spectral analysis and bookmarking the audio can ensure precise editing.