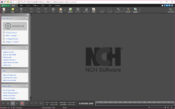 WavePad can edit the audio files by allowing you to cut, copy, or paste the specific portion of the recording on the place where you want it. Additionally, adding echo effects in the audio file is also possible through this app. The addition of amplification or reduction of noise is also possible in the audio files using this application.
The audio format supported by this application is MP3, but various other file formats are also supported. Some of these supported file formats include WMA, real audio, au, aif, FLAC, ogg.
The application's interface is friendly and provides you with the most excellent ease to cut and copy the sound or add the other features. Furthermore, a VST plugin is present in the application as a built-in feature. This plugin's presence ensures that you can get all the possible features and tools within this single application.
It supports batch processing. With this feature, you can apply the changes to several files in the form of a single function. To provide precision in the editing process, you can search and bookmark the audio files depending upon your needs.
Spectral analysis, speech synthesis, and audio restoration are amongst the other features that this application supports. The process of editing audio becomes simple enough so that you can complete it within minutes.
WavePad provides you with editing capabilities to restore the sound and provide easy-to-use cutting, copying, and pasting options. Moreover, features like spectral analysis and bookmarking the audio can ensure precise editing.