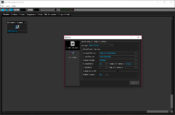 DarkWave Studio is a modular studio/tracker that includes plugins like MIDI input, MIDI output, anti-aliasing, and others.
If you want to make EDM or other kinds of virtual music, this studio can let you do it quickly and effectively.
Intuitive Interface
It is easy to access the features you desire from this software. There are numerous panes on the interface. From here, you can do everything you need.
From recording high-definition audio, editing sequences or patterns, installing VSTs and other virtual sounds, and looking at your project info, it's all there.
Multiple Features
When you imagine a modular studio, you think you should have various features. You have delay, mixing, output, joiners, arpeggiators, filters, crunch, randomizing, and settings such as attack, delay, reverb, and decay. DarkWave Studio does not disappoint.
There are built-in drums, snares, and other common sounds for music-making.
Comprehensive Workstation
The comprehensive list of features packs a punch. You can port, pattern, select a machine, a MIDI input, and even determine the length of a note. Or, if you prefer, you can duplicate a pattern easily and quickly.
Do you need a way to save your audio in different formats? You can do 32-bit or 16-bit, depending on your needs. And then you can save streams at the same time. Want to speed up or slow down the audio? Adjust your BPM and modify it at will. Then, when you're done, you can save the project to a file and change it more.
Once in the settings, you can change from a driver to DirectSound, change the sampling rate, and point to different VST paths.
A High-Performance DAW
DarkWave Studio is an excellent digital audio workstation. It is powerful, yet it does not hog your computer's resources. It can operate even if you do not have the best RAM in the world. In short, it is a great tool for more advanced digital music makers.