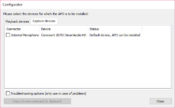 Are you looking for an audio equalizer for your Windows? You can use Equalizer Apo as a graphic equalizer for the Windows operating system. It is part of the audio infrastructure of Windows and is used as the audio Processing Object (APO) in the system.
Some of the basic features include the availability of an unlimited number of virtual filters, working on multiple channels simultaneously, suitable for the interactive application because of its low latency rate.
Additionally, Equalizer Apo does not require excessive CPU consumption. Its modular graphical interface makes it easy to access and use for you. VST Plugin support gives it a wide range of compatibility. You can also integrate it into the voice meter, providing various features.
Furthermore, the application can access the filter text file format so that you can access such files with Equalizer Apo in a convenient way.
Equalizer Apo is a multi-featured app that works like a graphic equalizer for devices operating on the Windows operating system.