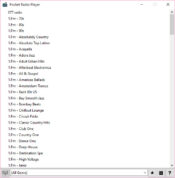 Want to listen to the radio on the go? Then you can listen to any radio station with Pocket Radio Player. This simple app helps you listen to your favorite radio stations that are available and compatible with Shoutcast.
If you like to listen to the radio often but don't have a dedicated application or want to have all the radios in one place, you need an application like Pocket Radio Player.
It is a simple and lightweight app that will allow you to listen to all radio stations on the internet that are compatible with Shoutcast.
Listen to Your Favorite Radio Easily
This application probably provides one of the easiest ways to listen to the radio. It has a very clean and intuitive interface, where you'll instantly choose which radio station you'll listen to. It features multilingual support, as well as FMOD radio usage.
This program doesn't need installation. You can launch it immediately and start listening.
Within the main window of this app, you'll see that all of the features are organized neatly. There are no advanced features like playlists or programmable radio stations. You'll be able to take only a few options here, though.
However, this app's main focus is simplicity and ease of use, letting even the biggest beginners listen to their favorite radio stations.
Find and Manage Your Favorite Stations
One of the best things about this application is the number of radio stations it offers for its users. Thanks to its compatibility with Shoutcast, which gives it access to many great radio stations.
The quality and the sound of each radio station will be on a very high level, too.
If you want, you can easily sort your favorite stations according to your preferences. If you don't like a radio station, you can rate it with ranks (from bad to good).
It allows you to organize radio stations as you like them to start listening to them quickly. You'll also have basic controls for controlling the radio stations, such as stopping and continuing play and browsing.
At the same time, you'll also be able to make changes to the radio station. You can edit them to an extent.
You can change the station name and URL or add a new one and modify the radio genre. You can also rate radio stations as your favorites, and they will be displayed to you first as you open this app, allowing you to listen to them instantly.
Conclusion
Pocket Radio Player is a simple and lightweight application that will help you listen to your favorite radio stations online.
It allows you to instantly sort them into favorites, edit them, and play your preferred stations.