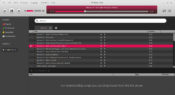 GTPlayer a media player, which provides you with the facility of downloading or listening to the songs along with finding the name of the author and the singer. Its interface it dark themed which enables you to work efficiently even during the nighttime. Moreover, the interface is supported by a search tab below the player. You can search for specific songs and their details. Once the list is displayed, you can scroll the list for the right kind of information.
The downloaded songs are listed in the specific section below the player along with some important information like the type of the file. You can download the song by just dragging and dropping one of the items in the list to the download panel of the player.
One of the limitations of GTPlayer is that you cannot handle the sound quality and manage it according to your needs. There is no audio equalizer, and you will have to settle on the sound quality that is provided by the player.
GTPlayer is easy to use application for listening, downloading and finding the details about a particular song.