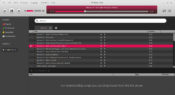 GTPlayer is an online music player where you can search for songs and authors from its interface and then play or download your favorite music straight to your device.
Finding songs online and downloading them is the easiest way to obtain songs today. However, this process can be lengthy, especially if you download one song individually.
Creating a mess when you're trying to organize your music files will take a lot of time.
With GTPlayer, you'll be able to seamlessly search for songs online, find them in one interface, listen to them, and then download them easily. You can search for your favorite songs or authors in this app's interface, and then you can either select to listen to these songs or download them to your device so you can save them.
Simple Interface Where You Can Play And Download Your Songs
It provides you with a relatively simple interface. You can browse all the songs you've downloaded or listened to from the main window. However, the main feature is the search bar, where you can type the name of your favorite music, and the app will automatically search for it.
The good thing is that you can do these tasks with just one app instead of using several apps.
Once you find your favorite song or artist, you can browse from the list of songs the app finds and listen to them. The list also has some basic information about the song and the artist, so you know that you're searching for the right songs.
Once you find the song you like, you can download it to your computer. You can download them in various formats: MP3, MP4, MA4, and FLAC.
This application takes hard work from your quest to search for songs. Normally, you would have to have several windows and apps open to search for and download some songs.
GTPlayer, though, makes it easy to do all of that with this application alone.
Conclusion
GTPlayer is a simple app that lets you find and download your favorite songs online.