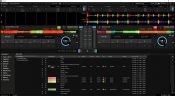 DJUCED is an application that lets you control and create your favorite tunes and make new memorable tunes.
It's the larger cousin of DJUCED 18, as it comes with many additional features and smaller tricks that make the experience more satisfactory.
Works with a Controller
One thing you must note is that this app requires you to have a controller for mixing music. For 30 minutes upon launching the app, it will still work without the controller. That's great if you want to test the application and see how it looks.
However, you'll have no choice but to connect a controller after that time. The app supports different types of controllers, too. It includes controllers such as Hercules Jogvision, Hercules P32 DJ, DJControl Instinct P8, Hercules Universal DJ, Hercules RMX2, Hercules DJControl Wave, Hercules DJControlWave M3, Hercules DJ Control Air+ S, Series, or Hercules DJ Control Air+.
Powerful Mixing Functions
The main focus of this app has comprehensive editing and mixing tools. And they are not just given to you like that – you get a friendly and organized interface where everything is self-explanatory. Of course, the editing and mixing take some time to learn, but the interface is very nice if you already know a thing or two.
It has a 4-deck layout, but you can use two decks if you want. There is no turntable, which is a shame, but there are other tools to compensate for that. You can insert sample sounds, apply various effects, tweak the sounds of the tracks, and make other small changes to the tunes.
And if you want to take things further, you can use the additional configuration options from the menu. These are all slightly more complicated options, although you don't need to choose this if you are already satisfied with it.
Conclusion
DJUCED is a comprehensive and user-friendly DJ-ing program that lets you mix or create your sounds and unique tunes.