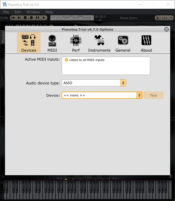 Pianoteq is a virtual instrument used as a separate application or as a plug-in VST for various music software suites. It can also be in AudioUnits or AAX formats.
Differences
Pianoteq is different than other virtual instruments. The main reason is that it uses instruments with physical modeling. It means you will have a more accurate simulation of instruments' complex and rich behavior.
Instead of samples, the file sizes are thus much smaller. It is a big help to those wanting a lightweight way to work on their laptop.
This new version 6 does make some improvements on previous versions. You will notice that acoustically, realism is increased.
It includes the pianos, percussion sections, and electronic versions. We found it rewarding and fun to play with these new instrument sounds.
Powerful Sounds
Pianoteq enhances the music-making and listening experience. You can change the sound in numerous ways to achieve a textured final result. You can even use a maximum of 5 microphones placed virtually on the instrument to produce a different sound with each setup.
If the budget is something that you consider, Pianoteq Stage is the lite version. You won't modify the sound as much as with the paid version, but you will still have access to the same instruments and sounds. You can always upgrade to Pianoteq Pro.
The Pro version is more advanced and detailed. It is for true composers for whom budget is not an issue, only the music. If you are an expert who needs every level of control possible, then upgrading is a solid option.
Pianoteq Stage is the choice of the budget-minded musician who does not need to modify the sound. The stage includes the same instruments, sounds, and playability as Standard and PRO.
You will get up to 192 Khz audio, which could make a difference if you release tracks professionally. You can upgrade to the Standard or PRO version at any time.
Compatible, Versatile Tool
It is a well-rounded music tool compatible with VST3 and ARM. You can produce a range of virtual sounds.
Alternatively, you can plug in your MIDI and export your sound in WAV, MP3, or FLAC formats. It makes Pianoteq a wise choice for studio musicians working digitally.