Winamp Full 5.666 Build 3516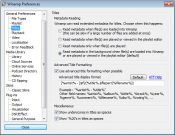 Winamp spans the world with millions and millions of downloads, being one of the most popular audio players in existence. While more advanced features like HD video support and CD rip & burn higher speeds come only with the Pro version, the free one is nonetheless an almost complete audio shrine. From Wi-Fi, iPod and USB sync support to an online service gallery for SHOUTcast and an MP3 store, this software brings unimaginable reliability and accessibility, as it comes in a huge variety of languages.
A toolbar, album art integration and web search feed our desire for fun. As it needs no further presentation, we will recommend this for its flash video support, the number of radio stations and for its modern and classic skins.
Winamp features and benefits:
Winamp Orgler lets you track, chart and share your Winamp listening history
Find and manage Add-ons directly in your media player

Improved iPod Sync Support
Expanded Podcast Directory
Smart views with new pre-sets for dynamic playlists
Plays an insane amount of audio and video types

Compatible with Winamp 2 Plug-ins
Full Support for Classic Skins / Modern Skins
New iTunes Library Import

Online Services Gallery
OurStage Radio Online Services
Turkish, Romanian and Portuguese Language Packs
Now Playing: Discover Artist Songs, Videos, Radio and Photos
AOL Radio Powered by CBS Radio
Dynamic Song Recommendations Playlist Feature

Multi-channel MP3 Surround Support
Mass Auto-Tagger Provides Latest Music Metadata
Integrated Web Search for Artist and Track Information

Album Art Support for Portable Devices
Updated Podcast Directory and Download Manager
Fully Integrated Web browser and customizable links
New Visualizer Plug-in - Milkdrop 2
Portable Device Sync support
Access SHOUTcast Radio Stations
Enjoy thousands of free songs and videos

Listen to AOL Radio stations
Expanded Flash video support
Media Monitor: Playing music on the web just got even better
Updated Winamp toolbar - control Winamp from your browser

Remote Music and Video Playback and Sharing