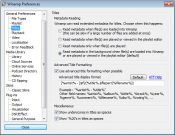 Winamp is one of the most popular media players that offers you several advanced functions, including rendering your favorite movies and songs, syncing with your preferred devices, and more.
If you're looking for good audio and video player, you'll have an abundance of options laid out for you. However, many unique video players will bring features that almost no other tool will have.
It offers advanced play tools such as viewing playbacks of your favorite videos or songs, rendering, a customizable interface, support for various file types, and the ability to listen to radio stations.
Customize Your Interface
When you first launch Winamp, you'll see that it has an interface that might look a bit complicated at first, but once you get familiar with the tool, you'll start to find some of its biggest advantages.
One of them is the customizable interface. The button placement is already intuitive and designed to help you perform the actions you need to act quickly and easily.
But you'll also be able to add a skin to the interface, which will provide you with some good customization options where you can tailor the interface to your needs.
Play Songs, Videos, and Radio
It is also a very versatile application that you can use to play various media files. Some of the most widely used files include videos, songs, and radio stations.
You'll be able to access the Shoutcast radio station collection, where you can pick from some of the most popular radio stations.
You can also enhance the videos and audio with the equalizer and other functions that allow for tweaking your content.
Conclusion
For good reasons, Winamp is one of the most popular multimedia players. It has advanced features and a customizable interface that will provide you with the most joy possible.
Winamp features and benefits:
Winamp Orgler lets you track, chart and share your Winamp listening history
Find and manage Add-ons directly in your media player

Improved iPod Sync Support
Expanded Podcast Directory
Smart views with new pre-sets for dynamic playlists
Plays an insane amount of audio and video types

Compatible with Winamp 2 Plug-ins
Full Support for Classic Skins / Modern Skins
New iTunes Library Import

Online Services Gallery
OurStage Radio Online Services
Turkish, Romanian and Portuguese Language Packs
Now Playing: Discover Artist Songs, Videos, Radio and Photos
AOL Radio Powered by CBS Radio
Dynamic Song Recommendations Playlist Feature

Multi-channel MP3 Surround Support
Mass Auto-Tagger Provides Latest Music Metadata
Integrated Web Search for Artist and Track Information

Album Art Support for Portable Devices
Updated Podcast Directory and Download Manager
Fully Integrated Web browser and customizable links
New Visualizer Plug-in - Milkdrop 2
Portable Device Sync support
Access SHOUTcast Radio Stations
Enjoy thousands of free songs and videos

Listen to AOL Radio stations
Expanded Flash video support
Media Monitor: Playing music on the web just got even better
Updated Winamp toolbar - control Winamp from your browser

Remote Music and Video Playback and Sharing