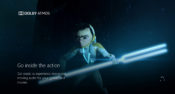 With Dolby Access, you'll be able to control the sound quality as you listen to your multimedia, as it will provide you with a piece of software for managing your hardware, such as speakers and other devices.
Today, the world of audio devices is getting broader and broader. They're also getting more and more advanced because they offer you some smart features that are still only making the market. And controlling these features might be challenging if you don't have the right software to back it up, allowing you to use the full capabilities.
With Dolby Access, you'll be able to control the sound that comes from your audio devices. You'll also be able to use the Dolby Atmos trial, which is a powerful piece of software that will help you get the most out of your surround sound devices. You'll be able to enhance and completely tailor your experience to your preferences with this tool.
Change the Sounds You Hear
First, you'll need to download and install it, although you'll also need to download and install Dolby Atmos. Then, you'll be able to make changes to your headphones and speakers. You'll be able to do that in the panel called "Speaker properties".
This application will give you access to some pretty new and unique ways the sounds can be heard. You'll be able to experience that first-hand, as the app will provide you with the ability to listen to what you've done with the changes by listening to the test files. These files are either videos or simply music, which are made to showcase the full power of Dolby Atmos and its features.
Get a New Level of Immersion
The sound can change your experience with the media you watch completely. And with this application, you'll be able to get a completely new and unique experience. You'll change all of the aspects of the sound you listen to in the app and fine-tune the preferences.
Conclusion
Dolby Access is an application that will enable you to change the sounds that come out of your sound devices and use Dolby Atmos.