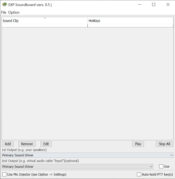 If you want to listen to many audio files simultaneously, then this application can solve your problem. EXP Soundboard can work without a formal setup. You don't have to face the changes in the registry files of your computer. Moreover, you can easily carry the application along with you by using the USB.
After launching the application, you need to fill the database with the audio files that you want to be played. You can add a hotkey to each of the files that you enter it in the database.
To initiate the audio, you can press the relevant hotkey. Pressing a particular hotkey many times would play the file as many times as the key was pressed. Similarly, pushing more than one hotkey is also possible, and you'll be able to hear multiple sounds. EXP Soundboard also allows you to loop sounds to create a newer version of the song.
Moreover, pausing, deleting, playing, are some of the options that you can manage through the interface of the application. Finding these features and using them according to your needs is not difficult at all.
Furthermore, you also have the option of changing the output source as well. Primary and secondary output source can be set and used accordingly.
EXP Soundboard is easy to set up and convenient to use the application, providing you with multiple options for playing many audio files at the same time.