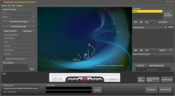 Kanto Player is a lightweight tool that has been designed for beginners and experts alike. It has an easy-to-use interface that makes the entire application process and its various features easy to understand and thus easy to use.
If you are looking to create a Karaoke playlist on your computer, then using this tool will solve your problem.
You can create multiple playlists and name each playlist accordingly. Moreover, each playlist can have different songs of your choice. All this process is managed through the main dashboard.
It allows you to watch videos apart from listening to music as well. AVI, MPG, MKV, MPEG, WAV, MP3, and MID are some formats that this application supports.
The player has some sliders that allow you to adjust the key and tempo of each song being played. The configuration of melody and sixteen MIDI channels can also be configured using this application.
You can even record the sounds using the same utility. KantoPlayer allows you to choose the input source for recording.
Additionally, you can also change the format of MIDI songs into an MP3 version without any hassle.
Kanto Player is a specially designed application to create a karaoke playlist with many additional features to make your experience great.