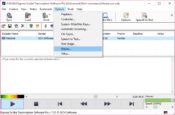 One of the tools for helping you transcribe the audio or video recordings is Express Scribe. It allows you to install hotkeys and manage the transcription of your videos, as you want. It also supports transcribing pedals so that you can download it as an alternative to the creation of hotkeys for the application.
You can adjust the speed of the playback, manage files, control different channels and efficiently manage the video player. Moreover, you can expect Express Scribe to play nearly all of the file formats including the encrypted versions of the files.
It supports analog and digital voice recorders. You can even send the completed files directly from this application without having to switch to the other applications for sharing a purpose. Furthermore, the speech recognition software is also supported by this application, which makes it easier for you to transcribe and get the end file ready. Similarly, working with all the Word processors is supported through Express Scribe.
Express Scribe can make the transcription of the audio and video files a lot easier.