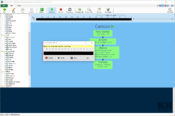 Voxal Voice Changer is an app that will help you apply voice and audio effects that will help you change or alter the voice and audio easily with various audio presets.
Changing the sound of your voice or the voice of footage is quite fun. Sometimes, it's great to use online to surprise friends or have fun with random people you meet online.
This utility is a great voice-changing tool that helps you alter your voice when you stream online or chat with others.
Lightweight Voice Changing Tool
It's quite easy to get started with Voxal Voice Changer. If you want to change the voice as you speak, this tool offers support for the microphone. You will have access to a clean and simple interface that lets you start changing the voices almost immediately.
You can use a wide variety of voice presets available with this tool. For example, you can change your voice to the voice of an astronaut. Or, you can try with the chipmunk. Many other fun voices are preset, such as female, monster, goblin, chipmunk, robot, male, villain, alien, and many others.
The even greater thing is that you can create your voice effects, too. You can use the flanger tool, chorus, amplifier, and others that can allow you to alter or change the voices you create when you talk.
Create Your Voice
With the additional special effects, creating your voice is fun and easy. This tool offers you the ability to develop your voice, as well. If you don't like the preset audio, you can use the application tools, add the voices you want to make, and get going.
Plus, you will have various additional tools to get you started. You can edit the preset voices, as well, if you want to make smaller changes to them.
You can also mute the microphone, bypass the current voice, and process various audio files that let you create your voices (MP3, OGG, WMA, AAC, FLAC, AIFF, AU). You can also export them into MP3 format.
Conclusion
Voxal Voice Changer is an easy tool that allows you to change the voices of your speaking.