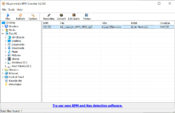 BPM Counter is a fairly straightforward application that enables you to see the beats per minute of MP3 and WAV files through automatic detection.
If you want to see the beats per minute of an MP3 or WAV file, then BPM Counter is one of the best tools. It is a great tool that automatically detects the song's beat-per-minute counter and shows you the results quickly.
It's great for DJs and others that might need a solution like this.
Straightforward GUI
It comes with a fairly straightforward GUI that makes it easy for users to operate the application. When you first install the application, you'll have to enter the files into the main window, which you can then use to analyze these files to learn the BPM counter. To do that, you can use the built-in file explorer that will help you find files easily.
The great thing about this tool is that it will also display some other important information about the files you're looking at, such as the artist's name, the extension of the file, the file's name, and the song's duration.
It can give you crucial information, but you'll also get the track previews if you want in your default audio player.
With the easy-to-use interface of the application, you can quickly select a particular file and generate the beat count associated with it. This feature helps manage remix music and adds the desired effects to ensure the right rhythm.
ID3 tags of the file can keep the information about the beats for you, so you do not have to go through this process every time for a particular file
Works with MP3, BPM, WAV Tracks
Another thing to mention here is also versatility. It will work with the most popular file types, including MP3, BPM, and WAV.
You can also import these files through the interface, and if you don't know the extension of a certain file you're viewing, you'll be able to see it in the tool's interface.
Furthermore, you'll also have the ability to make changes to the interface and the settings. With these settings, you'll have more control over how the application works.
Conclusion
To conclude, BPM Counter is an excellent tool for DJs and other people who need a tool to help them count beats per minute of individual files.