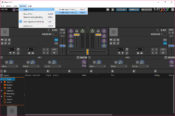 Mixxx is an application that offers you a way of mixing tunes and sounds to create amazing songs and audio creations of your own.
If you like mixing music, you know that it matters a lot about what sort of tools you're using for the job. Some audio creators prefer to use simple tools to use – others like to have more options to do their work, especially if you're a more advanced user. But many of them are also quite expensive.
It provides users with a nice mixture of all the features mentioned above. It allows you to mix music using the many different mixing tools inside the app.
It's also completely free to use, and it offers you a way of creating your music easily. It comes with dual deck support and other capabilities suited for a wide range of users.
Supports Various Controllers and Apps
One of the best things about Mixxx is that it will provide you with support for different inputs regarding apps.
For instance, you'll be able to add files from iTunes or other directories such as Traktor, Rhythmbox, or other locations.
In addition, you'll see that it supports various other controllers such as MIDI controllers, USB soundcards, and others.
Mix Your Music
When you create your music, you'll visualize the changes you make through the soundwave that is visible on your screen throughout the whole process.
Of course, you'll be able to play back your songs and preview them, as you'll have several options to manage your creative process as well.
There are many mixing tools to explore inside the app – some of them include VU meters, line faders, equalizer, gain knobs, and several others. You'll have the freedom that you need to create amazing sounds.
Conclusion
To conclude, Mixxx is an excellent tool to use for mixing your music. It comes with various essential tools, but it's also free to use, offering you a great way to create audio masterpieces.