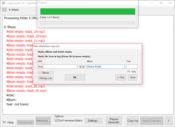 If you are someone who is constantly needing to perform various types of work and projects with audio files, then you need to have software like taghycardia that aids you with this. One of the most popular audio formats is MP3. However, there are not that many apps out there that truly help you get the most out of it. Oftentimes, you have to resort to time-consuming methods.
Well, what if there was a way to get things done faster without worrying about it? That seems to be exactly what taghycardia does. It is a modern application that lets you normalize tags on your MP3 folders. We found that the best part is you don't need to even use configuration panels, which can be confusing and overwhelming.
Configuration
Let's start with the configuration wizard. This is a part of the application where you can control your settings and get the app working how you want it. Different tags have different purposes. For instance, you might have work files or personal files. It is up to you to organize it how you want. You can get the whole range of MP3 files on any device, and it will carry over the auto-tagging, so you don't need to worry about it.
There are multiple options you have with configuration. The main app window is fairly simple. We didn't have much trouble getting it to work how we wanted. There are a number of categories. The first is the name. The artist who wrote the track can be a tag. Then, you can make personal compilations if you choose instead. Finally, it will automatically name tracks if there is no other information.
Organize
You can create numbers for the track names. You can even group the songs by the genre they are in, which we thought was really useful.
Usability
By simply dragging and dropping, you can do simple tasks. The music files are just a search away, letting you keep track of everything.
The way the app appears to work is by creating a database. Instead of having to go through manually and rename every file, it does a lot of this work for you. What this means is that you aren't going to pour hours down the drain.
Fast
We were pleasantly surprised by how fast the application works. It is fast and intuitive, which means your computer resources are also not being taxed.
Conclusion
The developers of this application clearly had a need in mind when they made it. They understand that people working with MP3 files are tired of tagging them manually. If you have something that performs this work for you automatically, then you can sit back and relax. You know that it will take care of it in a moment rather than several hours.
That way, you can focus on all the other things you want to achieve with your audio. Whether it's organizing your lists or making new music, we think you will have no regrets by trying taghycardia.