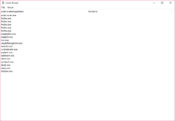 You can use this application to get different results of the audio inputs on various devices. With this Audio Router, you can get another audio playing on your headphones and speakers, provided you arrange different input sources for the audio sources.
Audio Router allows you to route your audio from one device to another and listen to audio on your speaker, headphones, or other devices that you might have chosen. Windows will normally send your audio to just one of your audio outputs, the default setting. That's what happens even when you have several devices on your computer.
However, with an application like Audio Router, you'll be able to route the sound to several output devices, which might be connected to separate and different sources.
Open Source App that Gets the Job Done
You can consider using it if you don't want to spend money on other apps that do the same thing. In essence, it's free to use as an open-source application. But you must know that the app doesn't get regular updates anymore, which might concern some. But it will still get the job done admirably despite that fact.
When you first launch the app, it will show you all the current applications generating sound. And you'll also be able to see which devices can play the sounds these apps make.
For that reason, you'll be able to choose which device will play what sounds, making it easy to control the audio.
Simple but Intuitive UI
One of the best things about this app is its simplicity. It has a rudimentary UI. It doesn't have some advanced settings that some other similar apps have. For example, if you have several programs running, you can customize their sounds and send the audio to one of the devices connected to your computer.
One issue with the app is that you can't minimize the application to the system tray, as you can only run it with the window open. It means that you can either open or close it, although you'll get used to it.
Conclusion
Audio Router is an application that helps you redirect audio to different devices simultaneously if you have several connected.