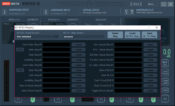 VoiceMeeter is a helpful and fun application that helps you mix audio feeds that go through your computer and compile them into an entity you can use in VoIP applications.
Audio mixing can be fun, especially when you use it to have some fun with your friends online. But sometimes, people use audio mixing for their work, as they're responsible for coming up with highly developed passages or mixtures of audio feeds.
To do that, they will need an advanced audio feed mixer such as VoiceMeeter. It will help them set up and use multiple audio feeds and mix them to create a great audio entity.
It's a modern-looking application with some advanced mixing tools that will help you make amazing creations and enjoy the process.
Simple and Modern Interface
You'll first see that the application has a rather simple interface. You'll see that it has big buttons and text inside, making it easy to start working with it. All the elements are neatly organized, allowing you to arrange the interface to an extent to your liking.
The audio mixing options are organized with sliders.
Set Up and Use Multiple Inputs
You can connect two different input devices to the computer and start using them inside the application. Then, you can begin mixing the sounds and audio that comes from these input devices.
It is done easily with the sliders and the clear and clean interface inside the tool. It will also detect ASIO drivers that you might use and virtual input options.
Four panels are visible inside the interface, where you can start using the sliders and apply various effects. There are not that many that you can use in terms of effects, but enough to provide you with a fun experience.
You can select the input devices from the individual panels from the drop-down menu in the interface.
Conclusion
VoiceMeeter is a useful application that will help you mix audio from various inputs in your computer, allowing you to have a fun experience and create unique sounds.