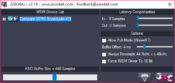 If the default audio drivers of your PC are not working correctly then this could be caused by the wrong drivers installed on your computer. In such a situation, ASIO4ALL is one of the best options that is compatible with all the devices that require WDM support.
One of the problems everyone could face is the difficulty of getting the right drivers installed. However, once the right drivers are installed the compatibility that ASIO4All provides for WDM devices is excellent.
This driver cannot be considered as the best driver in the market for music creation for example.
So, ASIO4ALL is a beautiful tool when it comes to compatibility with devices requiring WDM support. On the other hand, if you think you are going to get along with it very quickly, you are wrong. You'll need some support from some experts, or you should apply trial and error methodology to get things right.