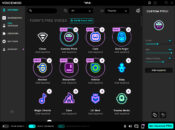 If you're looking for a good voice changer, then Voicemod is one of the best out there. If you're looking to simply hide your voice when you're calling someone, you don't want them to recognize you, or you're just playing around with your friends, having a voice changer can both be fun and important.
Voicemod is a very user-friendly and effective voice changer that will work with almost any streaming application and other apps where you can use the sound to create a variety of sound effects. The best thing is that it's easy to set up, even for complete beginners.
It can work with various applications, so you can place the calls while changing the voice on the spot. Skype, Discord and Voice Chat are some of the applications that provide you with such a facility.
Easy Configuration and Use
When you're looking to get started, you'll have to install this application first. The great news is that the installation will only take you a couple of minutes. It's straightforward to install. Just follow the instructions and the steps. Note that you might need to restart the PC before you start using it.
Then, you might need some configuration details to be defined for the app to start working. These are simple settings that include stuff like input and output devices, microphone optimization, and others.
Huge Collection of Voices
And now, the fun can begin. You have the freedom to select from a wide variety of voices and sound effects for your application. Some come with ambient sounds to make them seem more realistic, while others are clean.
You can start the application any time with just a click, and then continue making adjustments on the go. You can also set up hotkeys to access voices and sounds easier.  
Conclusion
Voicemod is a great voice changer that lets you change the voice of your speaking and surprise your friends, family, or stream viewers. It works with a variety of apps and has hotkeys to help you use the voices quicker.
Change your voice with this voice change application that lets you change your voice in a variety of settings and applications, and comes with different voice modes and sounds to help you mask your voice effectively.