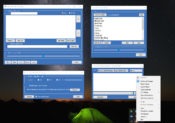 Are you looking to have some fun with your voice? Or do you need to change your voice when you're calling someone? Then you need specialized software that will help you achieve that. Whether it's to prank your friends, have fun with strangers, or mask your voice when you talk to other people.
Clownfish Voice Changer will help you achieve that. It's a simple but effective and free application that will help you use various audio effects and presets to mask your voice and change its tone.
It also includes a music player, so it's a versatile application you can use to have fun or achieve real work.
The most important applications which work with it are Skype, TeamSpeak, Discord, Mumble, Viber, Ekiga, Jitsi, or Hangouts.
Use Pre-Installed Presets or Customize Your Voice
The best thing about this tool is that it has some awesome presets you can use for changing your voice. You can access all sorts of presets – from alien voices to mutation effects, clone effects, robot, or radio effects. You don't need to do any work to start, and you can enjoy the benefits immediately.
But another good thing about it is that you can also customize the voices on your own. You can record your speech and alter some configurations such as your voice pitch, the quickness of speech, and more. You don't need to use the presets if you don't want to.
And then, you can record it, save it, and share it with your friends.
Music Player and Sharing Options
But this tool is more than just a sound changer. It helps you play various sounds and music along the way and make playlists. You'll also have a music player at your disposal.
You can also save the sounds you create and send them or share them with friends and strangers.
In Summary
Clownfish Voice Changer is a free audio manipulation tool that lets you change your voice's sound with some interesting audio effects easily and quickly in just a few steps.