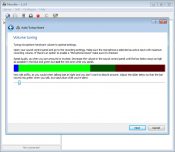 Mumble is the chat client designed for gamers that need over the clock communication with their teams. While Open Source and running on low latency, this chat client establishes a secured connection over the internet through encryption and private-key authentication.
Gamers may find exciting features like an in-game overlay that lets you see who is talking at a specific moment, and positional audio, great when establishing the other player's position is the key to victory.
Installation and configuration work on wizard mode, so the procedure is straightforward. This chat client should also be considered as a viable solution by administrators and hosters.