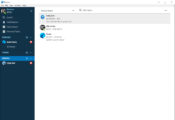 For those needing business chat technology, there are options out there. We looked at Ryver, a competitor to other platforms you might have heard of, like Slack or Skype.
They take the chats and make it easy to turn these into tasks like you would on Trello. It turns out that Ryver rivals them in several ways. It has focused on a specific part of the market.
Overview
In essence, when you use this app, it is like a combination of different chat apps. You can use the chat engine with various features to answer questions and go back and forth with the team.
The team will be able to know what they need to get done in real-time. It is crucial when your business model involves getting key clients their projects on a very strict timeline. It might help you shave hours or even days off of certain projects, depending on how you use it and your current workflow.
By knowing what each member is working on at a given time, you have a leg up on the competition, who might not have the same insight.
Forums
Forums are a way to get together in a virtual chat room. They let you voice your opinions, needs, and resource requests.
Private Teams
It's nice to know that certain teams will be private. It means that not only can you protect important information, but you can also prevent other team members from getting distracted.
Sometimes, you need certain people on a certain project.
To Conclude
it has many of the same features when comparing Ryver to Tello or Slack. We recommend trying it out.
But remember that ultimately the best tool is the one that each team member is comfortable using to achieve their goals.