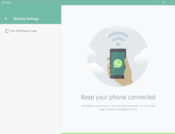 WhatsApp for PC is the desktop version of this popular chatting and communication app. You can easily communicate with your friends and coworkers using your phone to anchor these conversations.
WhatsApp is arguably one of the most, if not the most, popular applications for phone owners to chat with others. It's designed to make phone calls and send messages to other users only using the internet connection, which differs from how normal calls are made to use your broadband.
And with WhatsApp for PC, you'll now be able to chat with other users on your Windows computer, too. You can use the desktop client, or you can use the application in the web browser.
Whatever option you pick, the app allows you to use the same capabilities and functionalities as you can in a smartphone version.
Use Your WhatsApp Account from Your Computer
The truth is that this application is simply a mirror of the mobile app and does not bring many functionalities. However, this might benefit many users who want to keep the app's original chat flow. It's still an app that's simple to use and very helpful for communicating quickly and in various ways.
You can still share audio and video content and chat with others via audio and text messages or make calls. You can also share data, such as documents and files. There are also emojis that you can use to spice up the conversations.
Pair Your Mobile Device with the Desktop Version
Once you download and extract this application to your computer, you'll need to connect your phone.
You can do that by scanning the QR code you'll find on your phone. You'll be able to access all of the messages and chats you have on your mobile device from your computer.
Conclusion
WhatsApp for PC  allows you to use this chat tool on your desktop, providing the same functionalities as the mobile app.