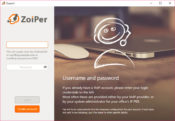 Zoiper is a great application if you can easily make video calls using any VoIP provider or PBX. It provides you with IAX/IAX2 utility and capabilities that come with it.
The main purpose of Zoiper is that you'll be able to make voice and video calls using VoIP. With it, you can talk to and call your friends, colleagues, and people from abroad in seconds.
The advantage of using an app like this over other voice calling apps like Skype is that it allows you to use any VoIP provider you want, even PBX.
Configure Speakers and Camera
As you launch Zoiper, one of the first things you'll have to do is configure your camera and your mic. After all, these are the two most important things for having quality conversations with others using this type of application.
You'll then need to create a new SIP, IAX, or XMPP account to get started and create new credentials for the account.
It comes with a tabbed interface, which most users will find intuitive. You'll be able to easily organize your contacts and ensure you see all the calls you've made or received.
This call log will make it easy to call the contacts back once or save them later. Also, you can set the status of your account from Online to Invisible, or Be Right Back, or Away.
Add Contacts and Make Calls
When creating new contacts, you'll need to enter the basic information about each contact, helping you save contacts and remember them better.
You can add them manually or, even better, import them from other sources, which can take a lot of work off your hands and make it easy for you.
You can start dialing other people using the virtual phone machine, where you can enter the number of the user you want to call. Then, you can begin your calls and use video or audio calls. It's completely your choice.
Conclusion
Zoiper allows you to call people easily through VoIP and provides encrypted connections between users to help them keep their conversations secure.