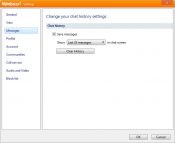 Nimbuzz is yet another free messaging client delivered to you by some communication enthusiasts who thought cheaper is better. We say cheaper because this chat client can also perform VoIP (Voice over Internet Protocol) at low prices, so you keep talking with your abroad friend for hours in a row.
The free-of-charge features list embeds contacts and your friends' status (online or offline), regardless of the program they use.
Sending text messages is also free. When you dial a landline network or a mobile one, everything comes down to money.