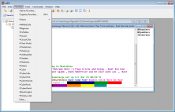 mIRC has grown as one of the most used communication platforms after thousand of organizations and millions of people have turned to it as the daily social and work companion.
After ten years of continuous development, the messenger utility remains committed towards a simple user interface which, on the other side, hosts a large number of features, such as file transfers, multi-server connections, and the basic buddy lists.
SSL encryption, customizable sounds or notifications, and powerful scripting capabilities contribute to this messenger client's safety, reliability, and flexibility.
On these terms, the program can be automated, and additional apps may be created so that fun and communication could improve.