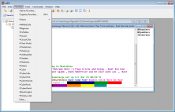 If you're looking for a classic chatting tool, then mIRC is one of the most popular tools of all time, as it offers support for channels and other chatting functions.
Do you remember when it was one of the first applications for chatting with others? To many users, it still brings nostalgia.
It is based on the Internet Relay Chat protocol, which enables people to communicate with each other only using an internet connection. Back in the day, this was a real hit.
Old-School Chatting App
mIRC was one of the first chatting applications that were ever developed. It was also one of the first that used the IRC protocol. Because of that, it has a slightly older interface, but it's still quite simple to use and install.
The installation should not take too long because it's simple to complete as you follow the steps.
You'll find a rather old-school interface as you launch the app. You'll first need to enter your name and nickname, set up some stuff about the chatting capabilities, find or create channels, and start chatting with others.
You can chat with as many people as possible and create as many channels as you wish.
Command-Line and More
If you're more of an advanced user, then you'll be pleased to know that the app has some neat functions for you as well.
For instance, you'll be able to create or manage your profile using the command line. But you'll also need more knowledge if you want to do that.
Fortunately, there's a help manual that's included inside the app.
Inside the manual, you'll find help on various topics, such as creating a channel or joining one, to more complex stuff, like writing commands in the server window to provide you with more advanced functions.
Conclusion
To conclude, mIRC will enable you to chat with other users through the various channels you can create or use.