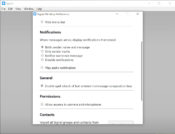 It is one of the modern applications that can provide you with the solution to all your communication needs by supporting the messaging, along with audio and video calling features.
Signal Desktop provides you the opportunity to sync your mobile with the desktop and message your friends or go for the voice calls or video chats from a bigger screen and the availability of the keyboard.
To use it, you need to have the Signal application installed on your mobile device. With the synchronization, you'll be able to get the notifications applications directly on your computer.
You don't need to be an expert – it is easy to use, and anyone can configure the right usage from the first attempt. Furthermore, all the messages are end-to-end encrypted, so you don't have to worry about the leakage of your relevant data or information.
Even media sharing is an option through Signal for PC. You can share documents, videos, and pictures quite easily. Enabling the notifications, changing the theme of the application, and importing contacts are some of the features that you can get through this app.
Signal Desktop provides you the facility of interacting with your friends and family members.