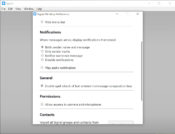 Signal Desktop is a chatting application that will help you send text messages to your friends and communicate in other ways, such as sending or sharing files and communicating through mobile.
When considering using a chatting application, one of the main concerns might be that they're not private and secure – well, at least some of them. So private chatting applications are not something new. These have been around for quite some time and are still not as widely used as mainstream applications.
One of the more secure chatting applications is Signal Desktop. It is one of the safest apps to date while also bringing the advanced chatting features that most mainstream apps have.
It will keep your data and chats hidden and secure, so you can chat without worrying about your data.
Open-Source Messaging App
If you're wondering what Signal is and have never heard of it yet, it's an open-source messaging and chatting application that ensures you stay private as you chat away with your friends and family.
It has one of the best, if not the bests, privacy protocols on the market, and it has been around since 2013, when Matthew Rosenfeld founded it.
Plethora of Features
Initially, it was designed to be a competitor to some of the biggest chatting apps. The creators of this app quickly saw the problem with privacy and went on to create one of the safest and most secure platforms out there.
It essentially features all the communication options that a chatting app must have. The main mode of communication will be text messages, although you're no longer restricted here.
You can send files, audio, and other data types to make your communications more effective and complete.
Conclusion
Signal Desktop is the Signal app's desktop variation, letting you chat with your friends safely and securely while enabling different communication modes.