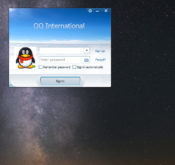 QQ International provides you with the latest news, games, videos, and language tools. You can get all these benefits from a single application without spending any money, as it is free.
50+ languages are supported by this tool to help the users and enhance their overall experience. Several languages are available in the application for support purposes: Japanese, Korean, German, English, French, and Spanish. You can even have the translation of the chat messages in any of the languages that you want.
The interface of the application is simple to let beginners and advanced users of the application use the application with all its features. Additionally, it is a cross-platform application that works on all operating systems. You will get complete support for using this application once you sign in to your account.
Moreover, QQ International allows you to create groups and chat with other people. HD video chat support, multiple add-ons support, and the facility to watch videos of your choice through this application are some of the significant features you can get through this app.
QQ International is an application developed to provide several features, including instant messaging, video chatting, translation support, and many other options.