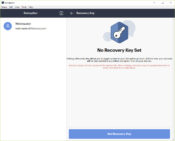 Semaphor is a perfect chat application for your working team. It is a secure solution for group messaging and file sharing without needing to connect to other tools like an email client or social media platform. It was developed and designed to simplify your life at work. The entire team is added in groups, and channels or other essential features allow you to sort the groups.
The SpiderOak team promised a very secure solution, so the information transferred via Semaphor is always encrypted in a private blockchain.
Safety must be high, especially if we are talking about sensitive information that hackers can intercept. Probably this is the main reason for which Semaphor was developed. From this point of view, it seems to have robust security.
The interface for this application is fantastic. Semaphor comes with a simple and stunning design. Smart and elegant are probably the perfect words to describe this application's new interface. The colors that dominate the chat application are grey and blue, providing a clean and straightforward view without hidden buttons or options.
It has the same interface for all devices, no matter if you are connected from a PC table, from a desktop or your smartphone.
The groups are sorted into channels, in the same order on all devices. In the main window, you will see the channels and direct messages, and in the top area, you have the notification with unread messages.
About the messaging window, we can't say many things, and it is a simple one with the possibility to add emoticons; if it's the case, you can attach some images or documents. You can modify your friend's name or add another cover image to your profile.
The messages are sent instantly, and you can see the time when the messages were sent and, of course, the date.