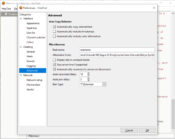 HexChat can be an easy-to-use tool that will support multiple connections, which means it can chat with users worldwide. It will use the Internet Relay Chat protocol to allow communication with your friends and acquaintances and offer multi-server and private connections.
It will be possible for the users to choose the desired networks and customize their nicknames the way they would like.
HexChat will make use of an automatic connection to user-defined chat rooms. It will also feature some search options, making it easy to find what you want.
If you have already used IRC, the conversation window is quite similar to the one used by IRC. The channel operator will have the possibility to give administrative rights to any user.
This tool will permit writing commands, and due to this feature, it will be possible to find out the total number of users in a channel.
It will also be possible for that user to kick or even ban different users as a punishment for unallowed actions. You will also be able to modify the nicknames or statuses of any chat members.
HexChat will also feature automatic text replacement, which can easily be used to correct common mistakes. It will also offer the users the possibility to configure URL handling options. It will also be possible to start private conversations using this tool.
Customizable keyboard shortcuts are also another feature that you will find pretty useful. It will be pretty easy to communicate with people worldwide, and you will see that this tool is an excellent alternative to other IRC clients.