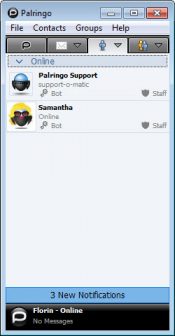 Palringo is a free app for group chat that works both for mobile and PC. Whereas you get to stay in touch with old friends, this social app is a great choice when searching for new friends.
Bringing hundreds of chat groups forward eases the transfer of pictures and voice messages. And when you can't find a suitable group, you can create your own and invite people in. Private one-to-one messages are also possible.
But we think you will be more interested in those 2000+ groups. In the end, if ads are not a problem for you, this is a nice choice for socializing.
File name:
Palringo-x86-[00000]_v2_8_1.exe
MD5 checksum:
2AC49C8461968142752EDE1F4FB84ED2
Supported OS
Windows 11 / Windows 10 / Windows 8 / Windows 7