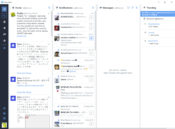 TweetDuck is the new reincarnation of TweetDeck. It is a Twitter client that looks to solve the problem of being a desktop app that TweetDeck no longer offers. It is unofficial, yet it is very effective.
As such, it is a versatile application that offers many of the same features you might have expected.
Succeeds in Offering Value
It was surprising during our review that it replaced the other app.
It even almost looks the same. It has a dashboard and an element that is supported by the desktop. The features are pretty nice in addition.
Layout
The layout is pretty much the same as it was. The features can be customized, and you will find that your Twitter accounts can be designed how you need them to be.
Messages
The tweets, posts, and lists you have at your disposal are just the tip of the iceberg.
There are also messages that can be automated much easier than other items.
A Good App for Social Media Managers
Regular users can surely get a lot of value out of this app. But perhaps the people who will get the most are those who look to emulate the features they lost when the previous app disappeared.
Thus, you have nothing to worry about if you are tired and frustrated by not having those features anymore. All the features you have come to expect are essentially back in an all-new way with TweetDuck.